TRADITIONAL FAIR – 2018
Traditional Fair - One of the most interesting and authentic annual activities at Cam Ranh International Airport, is jointly held only once a year by Cam Ranh International Airport Services JSC. (CIAS) and Aviation Ground Services Company Limited (AGS). Based on the success of the Fair of the year 2017, CIAS and AGS had once again jointly held the event Traditional Fair 2018 on October 18th. Similarly to 2017, the Fair this year is also an opportunity to encourage and inspire young women and to empower them on Vietnamese Women's day (October 20th).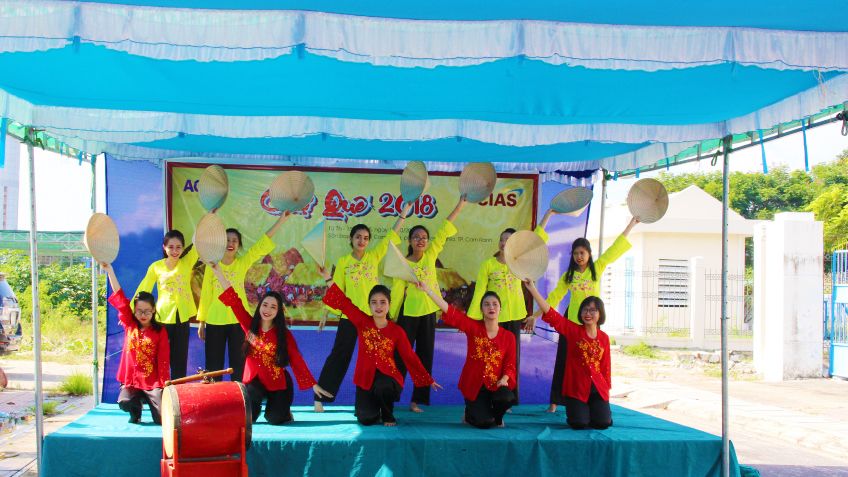 Folk dance performance at the 2018 Traditional Fair opening ceremony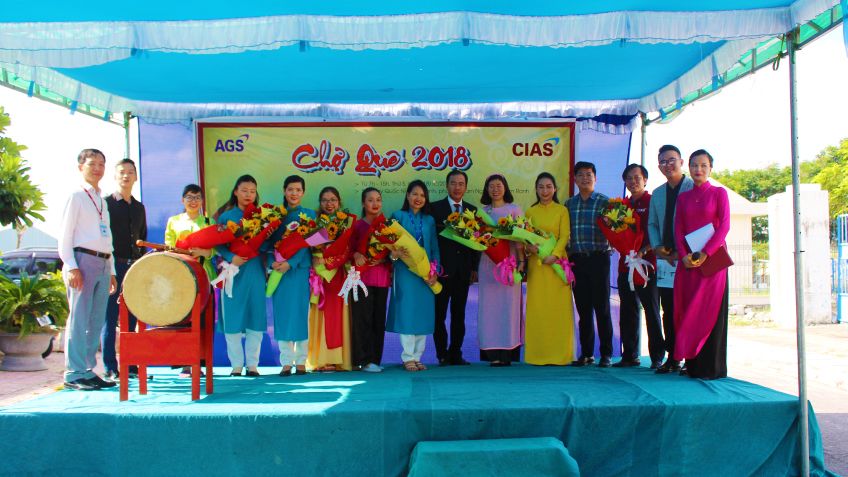 Beautiful bouquets for beautiful women of CIAS and AGS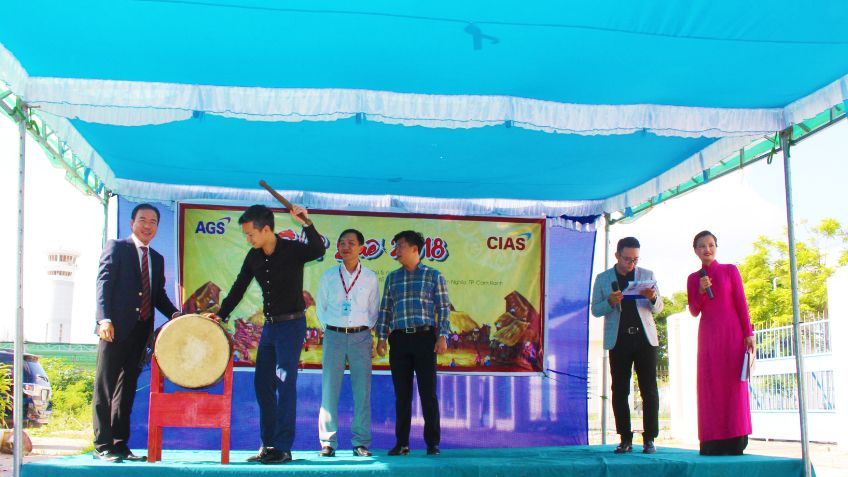 Opening drumbeats by CIAS's and AGS's Director
At eight o'clock in the morning, after opening drumbeats, all activities began to bustle. Beautiful bouquets, in turn, were given to charming female representatives of every stall. All the stalls started showcasing there most distinctive, delicious dishes to attract visitors. All of these created a very lively atmosphere at the Traditional Fair 2018 - Cam Ranh International Airport.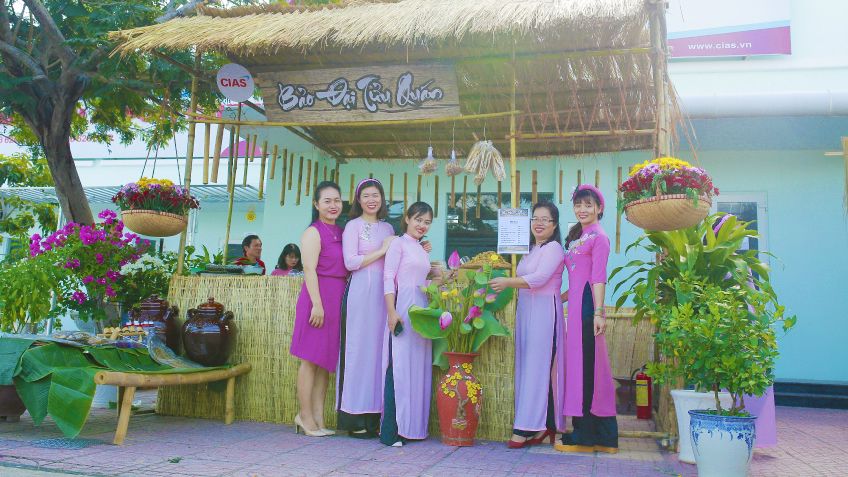 Bao Dai Tuu Quan Stall
The Fair 2018 was very much like a miniature version of a real Traditional Market of Vietnamese with totally 9 food stalls which were built with natural materials like bamboo, and named certainly impressive like Bao Dai Tuu Quan, Phi Truong Quan, Kho Hang Quan,…. Besides, the fair was also a good place to enjoy a wide range of inexpensive local dishes and snacks such as pho noodles, spring rolls, and banh xeo (crispy pancake),… and the staff transformed into countryside vendors with Vietnamese costumes. This Fair attracted not only people who were working at the airport but also the foreign visitors and airline passengers. It presented an invaluable opportunity to enjoy food and drinks as well as communicate with each other.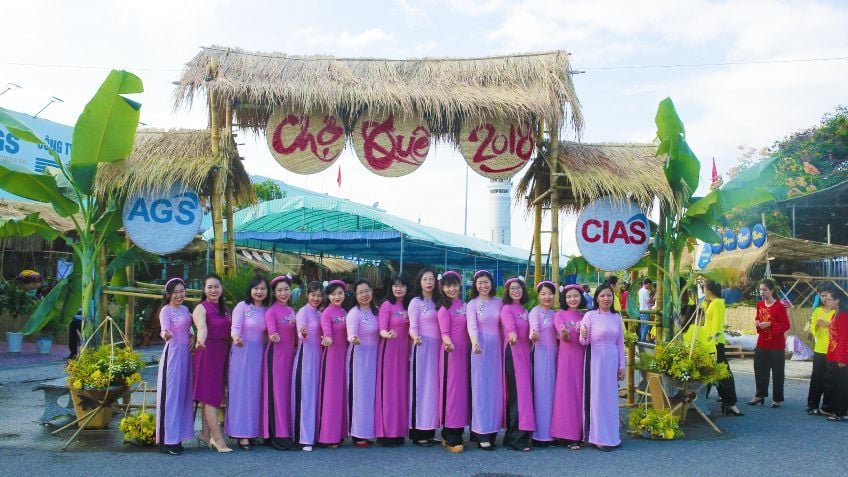 Charming women in Ao Dai
Vietnamese Women's Day is a perfect occasion for men to express their love for Vietnamese women, to make their beloved women happy, and to remind men about the importance of women in their life and in the society. That is one of the reason CIAS's and AGS's men decided to organize such an interesting fair for their female colleagues. Throughout the fair, visitors could easily spot men cooking like professional chefs. Furthermore, the men also voluntarily prepared everything for the Fair on their own, from building stall to arranging flowers to create a meaningful day for their beloved female colleagues.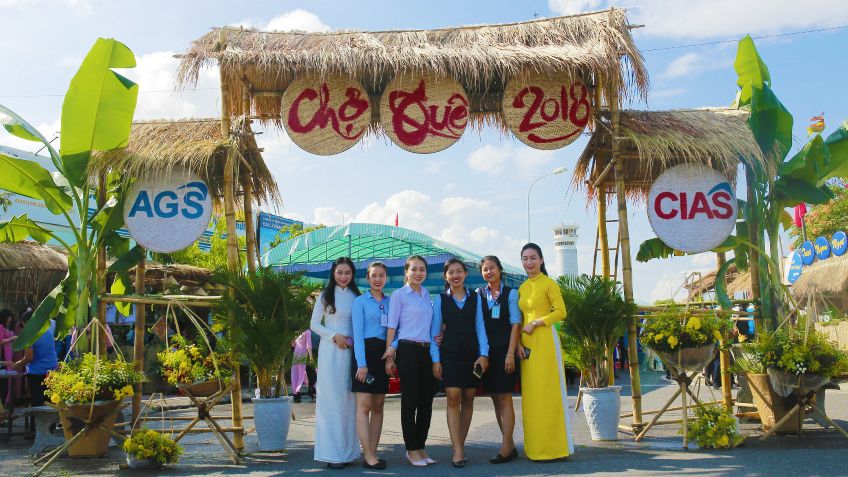 As a periodical event, the traditional fair is always expected not only by the CIAS staff but the staff of other companies operating at the airport. We hope that in the Fair next year, there will be more parties taking part in the traditional fair, and there will be many more food stalls and dishes for a more successful fair.